Laura Elizabeth Howe Richards was born in Boston in 1850. She wrote more than 90 books in her lifetime. The Boston Post once said of her work: "Mrs. Richards has made for herself a little niche apart in the literary world, from her delicate treatment of New England village life." 
These pocket paperback editions have been adapted from various print versions in the public domain, and edited to more closely conform to modern American spelling and punctuation. Their layout and type have been designed for ease of reading for children and adults alike. The cover art is adapted from images of the original cloth-bound books.

---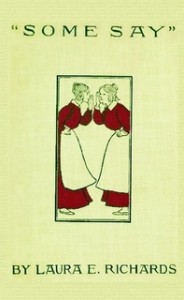 "SOME SAY"               91 pages               $7.50
"'Some Say' extracts a delicious sense of humor from the lives of some New England folk." —The Hartford Post.
Originally published in 1896, this volume contains the short stories "Some Say" and "Neighbours in Cyrus." Both stories center on small-town New Englanders and their gossip, as well as their close relationships—even with folks who might be less neighborly than others. It is one of the books in the "Captain January" series, all published by Mrs. Richards in the 1890s and available in matched editions on this page.
---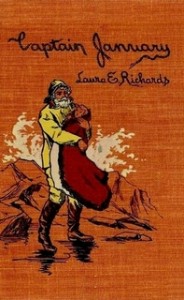 CAPTAIN JANUARY (Illustrated)                    $8.50
Originally published in 1891, Captain January is the story of an old lighthouse keeper and his foundling daughter, Star. One of Laura E. Richards' most popular books, it was twice made into films. "A charming idyl of New England coast life, whose success has been very remarkable. One reads it, is thoroughly charmed by it, tells others, and so its fame has been heralded by its readers, until today it is telling by the thousands, constantly enlarging the circle of its delighted admirers." Illustrations by Frank T. Merrill.
---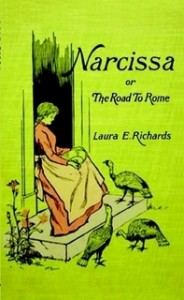 NARCISSA or THE ROAD TO ROME      $7.50
Originally published in 1892, this volume collects the two short stories "Narcissa, or The Road to Rome" and "In Verona." Both stories are set in 19th-century rural Maine, and play on small New England towns sharing names with venerable old European cities.  At the time of publication, The Congregationalist said of Narcissa: "Each is a simple, touching, sweet little story of rustic New England life, full of vivid pictures of interesting characters, and refreshing for its unaffected genuineness and human feeling." New York World called them "the most charming stories ever written of American country life."
---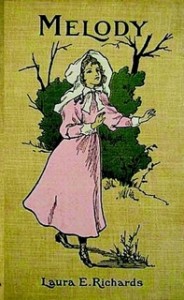 MELODY: THE STORY OF A GIRL (Illustrated) $8.50
Melody is the sweet tale of a 12-year-old blind girl, set in 19th-century New England. Originally published in 1893, it is the first of Laura E. Richards' "Melody" series, the rest of which are Marie (1894), "Bethesda Pool" (1895), and Rosin the Beau (1898). The Milwaukee Sentinel said of Melody: "The quaintly pretty, touching, old-fashioned story is told with perfect grace; the few persons who belong to it are touched in with distinctness and with sympathy." This edition includes illustrations by Frank T. Merrill.
---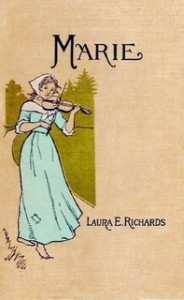 MARIE                 128 pages                 $8.50
Originally published in 1894 and rarely found in print, Marie is a prequel to the other books and stories in the "Melody" series By Laura E. Richards. Most versions of Marie that can be found online are incomplete. This edition was carefully compiled and adapted from various print versions.
"Seldom has Mrs. Richards drawn a more irresistible picture, or framed one with more artistic literary adjustment."—The Boston Herald.
---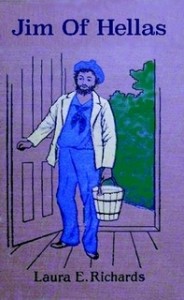 JIM OF HELLAS or IN DURANCE VILE          $7.50
Originally published in 1895, Laura E. Richards' funny, charming short stories "Jim of Hellas, or In Durance Vile" and "The Troubling of Bethesda Pool" are rarely found in print. In "Jim of Hellas," an island town of eccentric old sea captains meets a charismatic Greek sailor. "Bethesda Pool" is a taciturn and solitary innkeeper who makes a  grand gesture to help a young acquaintance.
"The stories in this volume are just as exquisitely picturesque as the others." —Minneapolis Journal.
---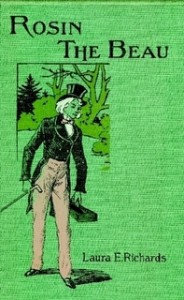 ROSIN THE BEAU          155 pages          $8.50
Jacques De Arthenay, known as Rosin the Beau, recollects coming of age in mid-19th-century Maine, and a trip to his ancestral homeland in the south of France, in a memoir to his young friend Melody. Jacques moves between rural America and his life as a shoemaker and fiddle player, and the pastoral ease of aristocratic Europe, finding his way through love and loss on his path to becoming a true gentleman. Rosin the Beau is a sequel to Marie, and a prequel to Melody.
---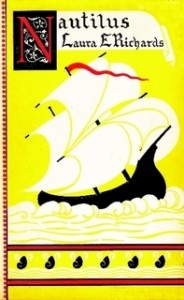 NAUTILUS                164 pages                  $8.50
Originally published in 1895, Nautilus is one of Laura E. Richards's most beloved stories. This edition, with illustrations by W.L. Taylor, has been designed for readability for children and adults alike.
"Nautilus is by far the best product of the author's powers, and is certain to achieve the wide success it so richly merits. Without exaggeration it is to be pronounced a literary gem." —The Boston Courier.
---
More Laura E. Richards Pocket Paperback editions coming soon!