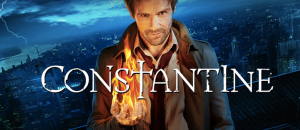 The title character of NBC's new show Constantine is meant to be a Liverpool-raised Londoner living in Atlanta, Georgia. Accordingly, the show uses a lot of British (and sometimes Southern American) idiomatic expressions. Here are some of my recent favorites.
"The duck's nuts"—cf. "the dog's bollocks," the bee's knees" and "the cat's pajamas."
Gaz: "Back then we all thought John was the duck's nuts."
"Taking the piss"—once largely unknown in the US, the expression "are you taking the piss?" usually means "are you kidding me?" This usage is gaining stateside traction.
Gaz: "I'm coming with you."
John: "Are you taking the piss?"
Gaz: "It's my responsibility."
John: "Forget it. You're the last person I want by my side in this—or anything."
"Bitta" —a person who is a bit of this, a bit of that—a "bitta" everything.
John: "You're showing flashes of precognition, retrocognition, clairtangence—you're a real Bitta."
"Rocket surgery"—a combination of  "rocket science" and "brain surgery." "It's not rocket surgery" means "it's not difficult."
"Pear-shaped"—"Everything went all pear-shaped" in British parlance means "everything went horribly wrong."
"Leave it out"—an equivalent to "I don't want to hear it."
Gaz: "I'm clean now, John, and it's going to stay that way; I swear."
John: "Oh, leave it out, Gaz; I don't have the time."
Read my recaps of the show at The Supernatural Fox Sisters.