Some of my new Supernatural History Series packs are done! The store can be found here.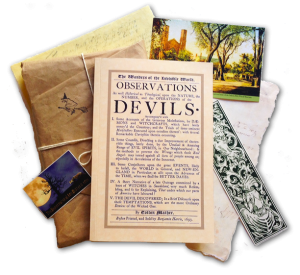 Included in the series are newly designed and typeset editions of:
The Wonders of the Invisible World/A Further Account of the Tryals of the New-England  Witches … by Cotton Mather and Increase Mather (Boston, 1693),
A Report of the Mysterious Noises Heard in the House of Mr. John D. Fox … by E.E. Lewis (Canandaigua, NY, 1848), and
The Vampyre: A Tale by John William Polidori (London, 1819).
The new publications of these works are included in collections of artifact reproductions focusing on places and events in supernatural history. Each pack includes a book, postcard, bookmark, and other related paper goods. These unique, handmade parcels come pre-wrapped, and are the perfect gift for monster and history fans alike.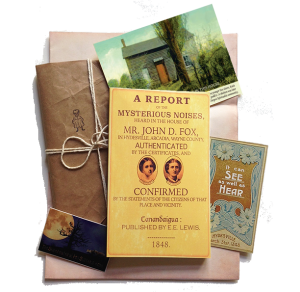 The Hydesville Ghost Pack and the Salem Witch Pack are available now. The Geneva Vampire Pack will be available later this month. Check them out!